U.S. and Vietnam Mark Historic Milestone with Comprehensive Strategic Partnership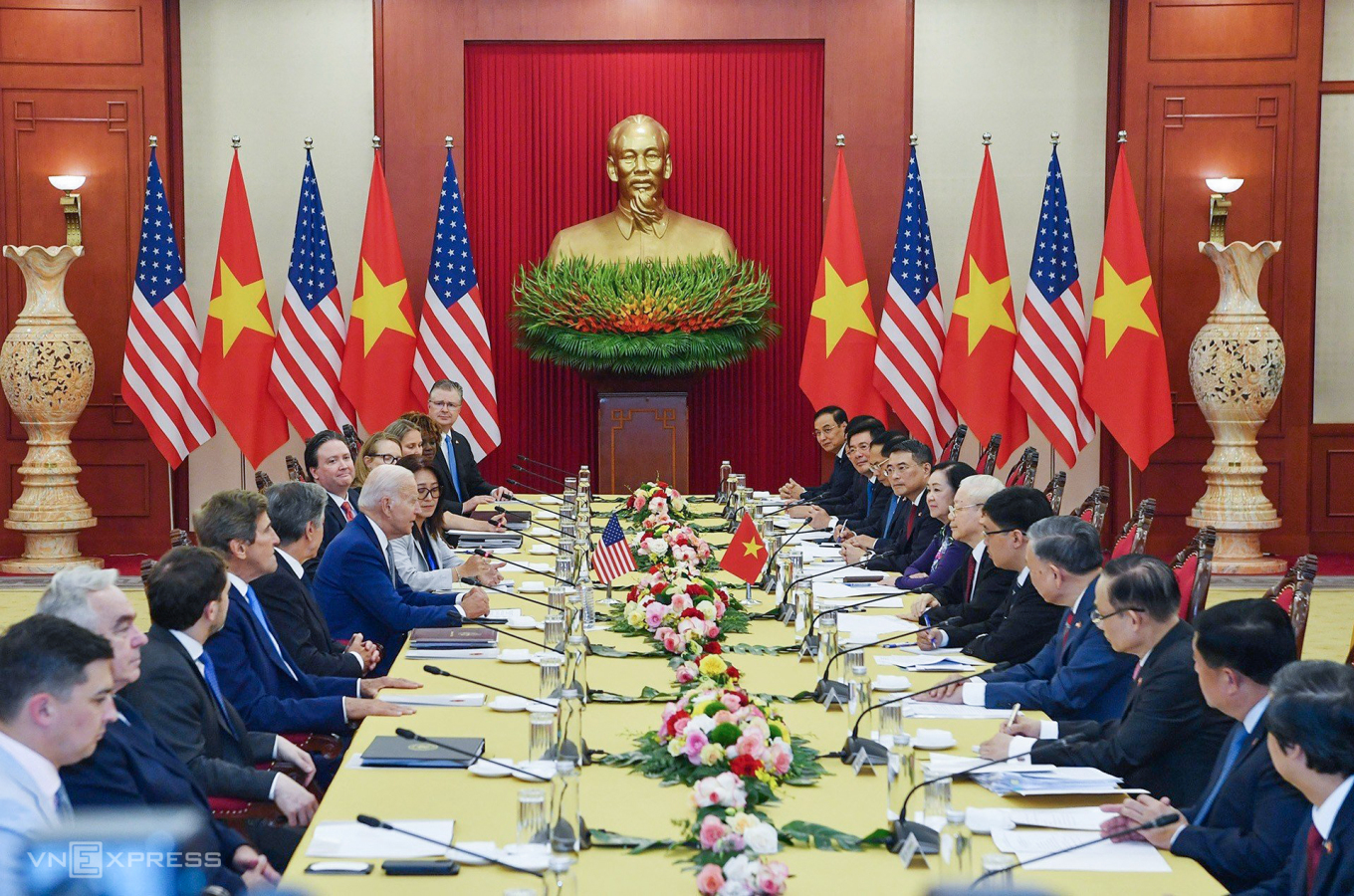 On September 10, 2023, history was made in Hanoi as President Biden and Vietnam's Communist Party General Secretary, Nguyen Phu Trong, jointly announced the elevation of the U.S.-Vietnam bilateral relationship. This announcement marked a significant leap, as the two nations skipped the "Strategic Partnership" phase and ascended directly from a Comprehensive Partnership to a Comprehensive Strategic Partnership, the highest tier in Vietnam's international partnership. With this elevation, the United States becomes the fifth country to establish a Comprehensive Strategic Partnership with Vietnam, joining the ranks of China, Russia, India, and South Korea.
During the press conference in Hanoi, the Party Chief expressed that the Vietnam-US relationship has witnessed significant and meaningful advancements since the establishment of their Comprehensive Partnership following the normalization of relations. He emphasized that the new partnership builds upon existing cooperation, particularly in economic, trade, and investment realms and that strengthening cooperation in science and technology will be a new pivotal driver for the Vietnam-US Comprehensive Strategic Partnership. Meanwhile, President Biden underscored that this new level of partnership will be a force for prosperity and security, deepening U.S.'s tie with another critical Indo-Pacific partners.
Key areas in U.S.-Vietnam Comprehensive Strategic Partnerships
New initiatives under U.S. – Vietnam Comprehensive Strategic Partnerships encompass eight key areas, which are:
Investing in the Innovation Economy and Collaborating in Science and Technology;
Cultivating People-to-People Ties: Education and Training; 
Deepening Trade, Investment, and Economic Cooperation;
Promoting and Protecting Human Rights;
Advancing Climate, Energy, Environment, and Health Collaboration;
Addressing War Legacies;
Bolstering Security Through Enhanced Cooperation; and
Reinforcing Business-to-Business Ties.
Highlights include:
Vietnam Airlines has agreed to buy about 50 Boeing 737 Max jets in a deal valued at about US$7.8 billion.
Arizona based Amkor Technology will start operations at a new $1.6 billion factory in Bac Ninh Province in October 2023. Delaware's Marvell Technology and California's Synopsys will invest in semiconductor design and incubation centers in Ho Chi Minh City.
Microsoft will make a generative AI-based solution tailored for Vietnam and emerging markets, while NVIDIA will partner with Vietnam's FPT, Viettel, and Vingroup on AI to deploy AI in the cloud, automotive, and healthcare industries in the country.
Honeywell will cooperate with a Vietnamese partner to launch a pilot project to develop Vietnam's first battery energy storage system.
Vinfast continues to progress on the construction of its US$4 billion electric vehicle manufacturing facility in North Carolina.
Seattle's SSA Marine and Vietnam's Gemadept will collaborate on strategic port projects in southern Vietnam, including the proposed US$6.7 billion Cai Mep Ha Logistics Center.
The two countries have an "enhanced commitment" to talking about human rights, building on the decades-old U.S.-Vietnam Human Rights Dialogue, an annual meeting.
The U.S. is helping to build Vietnamese capacity to fight regional and international transnational crime including "illegal, unreported and unregulated fishing".
The U.S. will expand its efforts to address lingering damage from the Vietnam War, including increasing funding from US$183 million to US$300 million for a dioxin remediation project in the Bien Hoa Air Base area.
On collaboration in the innovation economy, science and technology, there will be increased efforts to expand the capacity of the semiconductor industry in Vietnam. The United States recognizes Vietnam's potential to play a critical role in building resilient semiconductor supply chains. President Biden met with Prime Minister Pham Minh Chinh on September 11 at the U.S. -Vietnam Innovation and Investment Summit and announced a newly signed Memorandum of Cooperation on Semiconductor Supply Chains, Workforce, and Ecosystem Development. This memorandum will formalize the bilateral partnership aimed at expanding the capacity of the semiconductor ecosystem in Vietnam, in support of U.S. industry.
In educational collaboration, the emphasis will be STEM-focused initiatives and upskilling programs for Vietnam to foster digital growth.
In enhancing trade, investment and economic cooperation, the United States will stimulate new investments through the Partnership for Global Infrastructure. This initiative involves strategically deploying additional public capital to facilitate private sector financing and expertise, particularly in areas like agricultural trade and funding for underserved borrowers.
In climate, energy and environment, new projects and mechanisms will be introduced, including the U.S.-Vietnam Bilateral Climate Working Group, initiatives for climate-resilient agriculture in the Mekong Delta, efforts to expand energy storage capacity, and strengthened collaboration to assist Vietnam in quantifying its rare earth elements.
In health cooperation, new activities will enhance Vietnam's public health capabilities, including improved laboratories, surveillance systems, and infection prevention. The U.S. also plans to expand partnerships for better cancer care and provide support in developing medical device policy framework.
During his visit to Hanoi, President Biden also had a state luncheon with Vietnam President Vo Van Thuong. They discussed technology cooperation, Vietnam's clean energy transition plan under the Comprehensive Strategic Partnership, ongoing Indo-Pacific Economic Framework for Prosperity (IPEF) negotiations and the upcoming APEC Leaders Meeting, where President Thuong will be in attendance.
A decade of progress
President Biden and General Secretary Trong both emphasized that this momentous upgrade of relations, shifting from a Comprehensive Partnership established in 2013 to a Comprehensive Strategic Partnership, reflects the dedicated efforts of both governments.
In the past decade, the U.S. And Vietnam have observed significant and extensive enhancements in bilateral relation. The two countries' collaboration has expanded to cover a wide range of areas, including politics, security, people-to-people ties, science and technology, healthcare, climate, energy, education, and beyond. Consequently, Vietnam and the United States have emerged as trusted friends and robust partners, united by a shared vision for an open, interconnected, prosperous, resilient, and peaceful Indo-Pacific region.
The Comprehensive Partnership established an important framework for enhancing cooperation between the U.S. and Vietnam across various pillars. Some significant achievements include:
Shared Prosperity: Over the past three decades, our bilateral trade and investment have witnessed remarkable growth, reaching new heights in 2022. The U.S. has become Vietnam's largest export market, particularly for goods like textiles, footwear, and electronics, with a total trade value exceeding US$138 billion. The U.S. is also the eleventh largest investor in Vietnam, with registered capital totaling US$11.4 billion as of the end of 2022.
Growing Security Cooperation: The two nations share increasingly convergent strategic interests. Washington's Free and Open Indo-Pacific strategy is largely aligned with Vietnam's interests. Over the years, the U.S. has provided substantial assistance to Vietnam in building maritime capacity and could emerge as a significant defense supplier for Hanoi in the future.
LOOKING AHEAD
September 21, 2023: Luncheon and Business Forum with Vietnam Prime Minister Pham Minh Chinh in New York City: Co-hosted by the US-ASEAN Business Council, U.S. Chamber of Commerce, and Business Council for International Understanding. For more information, please contact Hai Pham at hpham@usasean.org or Le Nguyen at lnguyen@usasean.org
September 30 - October 8, 2023: Vietnam Week in Washington D.C.: Please click here for more information.
Join the Council to continue reading this article
Enhance your business impact in Southeast Asia: Become a member of the US-ASEAN Business Council and tap into a network of possibilities.
Free Related Articles