About The Council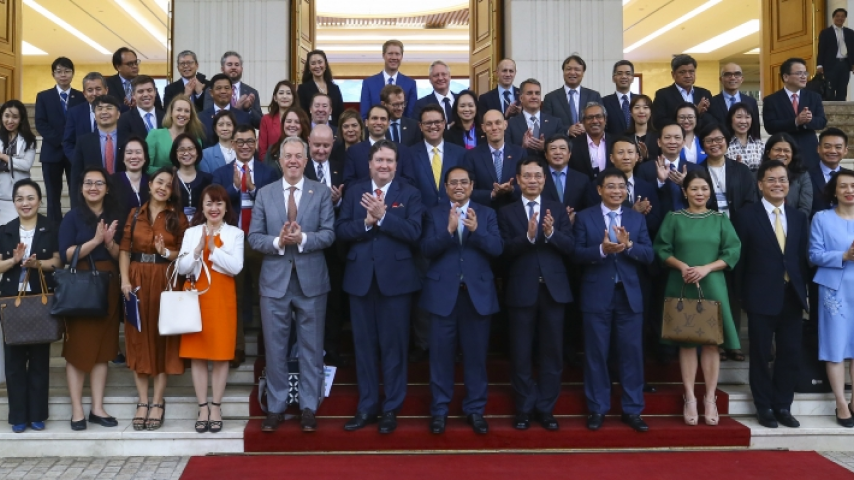 The US-ASEAN Business Council Inc. (Council) was established in 1984 as a non-profit organization.  On behalf of its members, the Council conducts research and analysis of economic, environmental, financial, political, and social, conditions in the ten countries of the Association of Southeast Asian Nations (ASEAN).  Brunei Darussalam, Cambodia, Indonesia, Laos, Malaysia, Myanmar, the Philippines, Singapore, Thailand, and Vietnam comprise the ten nations of ASEAN. The Council utilizes the results of its research and analysis to assist its member companies by providing educational programs, technical information for product innovation, and trade and investment-related activities.  Through its 501c3 arm, the Council provides support for humanitarian efforts, community engagement, and educational scholarships. The Council has become the leading voice of the U.S. private sector in promoting mutually beneficial trade and investment relationships between the U.S. and the ten countries of Southeast Asia. 
The Council supports the interests of over 175 member companies by providing advocacy, thought leadership, research, education, intelligence, and building key business relationships. Worldwide, the Council's members generate over $7 trillion in revenue and employ more than 13 million people. The Council is the only American organization formally recognized in the ASEAN Charter and meets annually with the Finance, Trade, and Energy Ministers at their annual meetings. The Council produces research papers on cybersecurity, energy, environment, financial services, health, information communications technology, life sciences, sustainability, and other leading-edge topics and activities in ASEAN. The Council currently has 19 employees in the United States and 35 employees in ASEAN.  Members companies include 3M, Abbott, Chubb, Ford Motor Company, Caterpillar, Coca-Cola, ExxonMobil, Google, Harley-Davidson, Intel, Microsoft, Procter and Gamble, and UPS. The Council has offices in Washington, DC, New York, NY, Bangkok, Hanoi, Jakarta, Kuala Lumpur, Manila, and Singapore.
During the COVID-19 pandemic, Council management encouraged innovation, made strategic investments, communicated, and regularly engaged with internal and external stakeholders, streamlined processes, and made strategic budget cuts designed to avoid layoffs and remain solvent.  US-ABC's people-centered philosophy and flexible business model aligned with the still prevailing longer-term trends of remote work and enhanced technology.  US-ABC pivoted successfully, offered virtual programs, safeguarded the staff, and achieved budget goals.  The Council continued to grow, thanks to the support of its current members and an influx of new members. 
The Council is charged with advancing and protecting $7 trillion in commercial interests in Southeast Asia.  Building on the growing interest in the region and a proven, dedicated team effort, US-ABC continues to step up its efforts by moving advocacy efforts aggressively forward with tangible benefits to our member companies. Spring 2023 marked the return of the US-ABC Ambassadors' Tours with both U.S. and ASEAN Ambassadors visiting key cities in the United States.   
US-ABC's diverse and inclusive workforce drives innovation and creates a culture of respect and understanding. We are committed to fostering an environment where all employees feel valued, respected and supported, regardless of their race, ethnicity, gender, sexual orientation, age or background. 
Delivering proven business results in Southeast Asia
For more than 35 years, the US-ASEAN Business Council has been the premier advocacy organization for U.S. corporations operating within the dynamic Association of Southeast Asian Nations (ASEAN), serving as the leading voice of the U.S. private sector in promoting mutually beneficial trade and investment relationships between the United States and Southeast Asia. We believe opening and investing in the sustainability of efficient, resilient and competitive markets are critical to the continued growth of our member companies and innovation and job creation in the United States and Southeast Asia. ASEAN now represents more than 650 million people and a combined GDP of US $2.8 trillion across Brunei Darussalam, Cambodia, Indonesia, Laos, Malaysia, Myanmar, the Philippines, Singapore, Thailand and Vietnam. The Council's members include many of the world's largest American multinational corporations in numerous industries and range from those that have been working in Southeast Asia for more than a century to newcomers entering Asia's most dynamic regional economic community.
Unmatched Assistance and Support — Use the Channel
With long-established personal and professional relationships with key ASEAN decision makers, the Council is able to arrange genuine dialogues, solve problems and facilitate opportunities in all types of market conditions, and provide market entry and exclusive advisory services. As a member-driven organization, we tailor our services to advance individual member needs.
Through the Council, members can:
Gain insights into regional opportunities
Increase expertise and access to information while advancing their companies
Receive individual support for ASEAN operations
Join today! The US-ASEAN Business Council represents more than 150 major U.S. companies with a presence or interest in Southeast Asia.